Atlanta is a wonderful place to live, full of thriving business, world-class attractions, dramatic landscapes, fabulous architecture and distinctive neighborhoods. But there is another side that of Atlanta, that is also growing at a rapid pace, homeless teens. About 50,000 teens in the U.S. sleep on the street for six months or more.

Homeless youth is the fastest growing group of homeless people. Atlanta, believe it or not, is the poorest city in the U.S. for children, since more children in Atlanta live in poverty than in any other city. 48% of all the children in Atlanta in poverty, live in families with annual incomes of less than $15,000 a year. For children under age 6, living in female-headed families with no spouse present, the poverty rate is 58.8%. Children ages 6-17 living in female-headed families with no spouse present have a poverty rate of 44.9%. Current welfare (TANF) benefits are $282 a month for a woman with two children. Could you find an apartment to rent on $282 a month?
This is why just like the song from the LeAnn Rimes video says, we need to learn to "Give". The group of kids featured on this video are homeless youth that receive services at the Chicago StandUp for Kids program.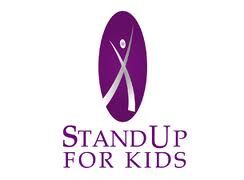 Atlanta also have a StandUp For Kids program and they are in great need of supplies for their outreach center.
They ARE EXPERIENCING A CRITICAL SHORTAGE FOR FOOD PACKS FOR Their STREET TEAMS AND CENTER PROGRAMS!
With the temperatures rising, they are going through their supplies quickly and really need the support of the community in order to be able to continue our mission. This is also a great opportunity for small groups, families, and others to come together and "give back" to the community.
They are simple to put together please contact them at
Atlanta@standupforkids.org
if you would like information on how to put packs together!
On average, they serve over 50 homeless youth each week providing them with the most basic needs: food, clothing, hygiene products, showers, laundry services, basic medical care, and much more.
One of the ways that you can help is by providing any of the items below to the Atlanta, Georgia Outreach Center. Please contact Lee Star or (770) 823-3169 for more information and/or to arrange a meeting to drop off donations.
Wishlist
Clothing
Larger Female Sizes for Clothes: Sizes 12 and up
Men's jeans 34 and 36
Underwear for both Men (Boxers Med and Large) and Women (7,8,9 and10)
Shoes for Women: Sizes 9 to 11
Larger Male Sizes: Sizes 34 to 42
Shoes for Men: Sizes 10 to 13
Blankets/Sleeping Bags
Diapers and formula
Feminine Products
Outreach Food Packets
(Need 50 to 60 per week)
(Small Serving Sizes)
1 Moist Towelette
1 Bag of Chips
Juice Boxes (small carton w/straw) or Water
1 Small (pop top) Pudding/Fruit Cup
1 Chocolate Candy Bar
1 Small (pop top) Beenie Weenie / Spaghetti etc.
1 Napkin & Plastic Ware Packet
1 Granola Bar
1 Package of Gum
1 Bag of Nuts
Outreach Hygiene Kits
(Need 55 to 60 per week)
Please place Small TRAVEL SIZES in Gallon Zip-Lock Bag; Label male/female
Deodorant (male and female)
Disposable Razor
Small Shampoo
Small Conditioner
Small Soap
Tissue Pack
Toothbrush - Toothpaste
Handi-Wipes
Feminine Products
Contact Atlanta StandUp kids for more ways to help: Atlanta@standupforkids.org.

For more information on how you can donate meals,
click here.
For more information on donating food or hygiene packs, please
click here.